Portrait of Harry A. Miller
While this blog has admittedly been pretty (OK totally) car-heavy for quite a while, this post is a perfect combination of the Wings and Wheels theme I have been trying to balance here.
To legions of racing and classic-car enthusiasts, Harry A. Miller is best-known today for designing and building the dominant American racing cars of the 1920s, with his products renowned for their precision and sheer artistry to match their dominating performance. His growing reputation during the immediate pre-World War I era, along with that of his right-hand man, Fred Offenhauser, who could somehow bring the vision of Harry Miller to fruition, meant that Miller Manufacturing was a logical choice to supply engines to the nascent aircraft- manufacturing industry of the era.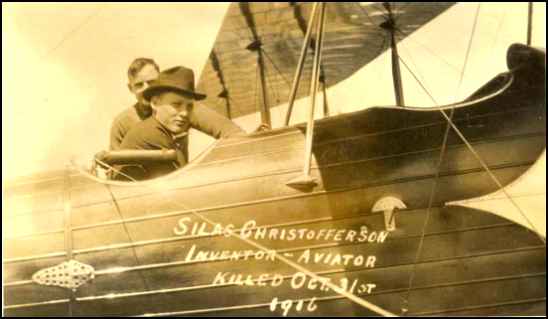 Silas Christofferson, possibly at the controls of his Tractor (front-engine) airplane of 1914 or 1915.
In fact, the first Miller-designed and built engine was indeed an aircraft engine - a single-overhead cam inline six-cylinder unit - commissioned by pioneering West Coast aviator Silas Christofferson and his brother Harry. Powerful, lightweight, and providing an extremely small frontal area essential to good aerodynamics, the engine Miller and Offenhauser created for the Christoffersons was an engineering masterpiece. Unfortunately, the death of Silas Christofferson following his accident in another aircraft powered by different (non-Miller) engine brought the promising engine program to a halt.
While Miller and Offenhauser were extremely busy during the 1920s as the engine and chassis builders of choice for anyone serious about winning races, several other aircraft-engine and marine-engine designs followed that initial unit built for the Christoffersons. In typical Miller/Offenhauser practice, all were extremely innovative in their respective designs and very powerful.
While all of the Miller aviation engines are somewhat enigmatic, much like Harry Miller, the one constant was their unfulfilled promise, given sufficient development time and effort.
On behalf of a private client, I am now seeking information on the whereabouts of the known Miller aircraft engines listed below. They are described in the definitive Mark L. Dees book, The Miller Dynasty:
1. The 638 C.I. inline six-cylinder engine built circa 1915 for the Christofferson Brothers.
2. A 352 C.I. inline four-cylinder engine with a single-overhead cam built circa 1916. It is likely several examples of this engine were built.
3. A 1,414 C.I., 60-degree V-12 built in 1917 for military aircraft.
4. A 300 C.I. "flat eight" with horizontally-opposed cylinders built circa 1928. This engine was air-cooled.
5. In the late 1930s and early 1940s, Harry Miller was involved in some designs for aircraft engines that we do not believe were ever built. He was also working on the 510 engine for Preston Tucker and his famous Tucker automobile, which was eventually ditched in favor of the Franklin flat-six helicopter engine.

If you or any contacts know of the whereabouts of any of these Miller aircraft engines, please contact me, David Neyens, at davidneyens1@gmail.com.
I am also seeking Miller marine engines with qualified buyers with checkbooks open!